Pressure Washing Portland
Cascade Painting and Restoration 503-936-3255
                                                                            By Carl Nurmi 
Power Washing
Houses, businesses, driveways, patios, and walkways.
Enjoy the Clean while Preserving your Investment
There is no quicker, more affordable way to make a big difference to the look and feel of your home.

Slippery Green and Slimy Black
Moss, algae, and mildew can be lovely in the right places. (In certain gardens, rustic walls, the rain forest, and cemeteries come to mind.) When it grows on our structures it's another matter. They harm surfaces and are often slippery, dirty, and unsightly. We don't have to put up with it!
Keep your property clean, not green.

Even though we take pride in our homes, maintain them well, and nicely landscape them, we often neglect the walkways, steps, driveways, patios: the 'hardscapes' that make up so much of our property. Expensively built by craftsmen , they were meant to look good and to have the potential to last a very long time. It's a shame to see them covered in moss, algae, mildew and dirt and to be exposed without protection to the elements. Just a quick look around the older parts of town shows the ill effects of neglected maintenance.
Quit Tracking in Moss, Molds, & Dirt

The traditional cleaning method, a person with a wand , going back and forth for hours is a bad idea for several reasons. It rarely does a good job. It leaves stripes and often produces the zebra effect. Much worse, though, this method can damage surfaces by applying too much pressure to too small an area at a time.
Our Methods are much Better

We use high capacity washers coupled with Swiss made Rotary Surface Cleaners. They disperse high water volume through their 3 rotating arms.(at 2000 rpm) and clean thoroughly and evenly.. Because of their design, they contain the water and dirt underneath them, rather than sending it all over like 'the guy with the gun'. Their efficiency allows us to clean without harsh chemicals. Green Cleaning

Better cleaning through better technology.
Prevent Slipping & Liability Issues

Proper Cleaning of old concrete will reduce the 'checkerboard effect' when replacing concrete sections.
(What hasn't been done in this photo of an unwashed sidewalk.)
When you seal a concrete surface, it fills in the small spaces in the surface so that dirt, and the moss and mildew that grow from it have a hard time taking hold.  Not only does it keep areas cleaner, it helps to preserve the surface.  Our favorite product to use is Parchem Lustreseal.
Repair Concrete
We are also experts in caulking cracks and repairing damaged concrete.  Freezing water will crack concrete and lift it.  Its an area of home maintenance often overlooked by homeowners.  Preserve your expensive investments and improve the look of your property. Mossy patio pavers?  Let us pressure wash, resand, and seal for a great look.
Sand Pavers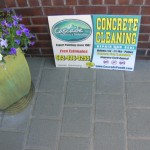 We also do excellent Interior Painting and Exterior Painting.  We do both House Painting and Commercial Painting in Portland and the surrounding area.
Pressure Washing Lake Oswego Oregon
Pressure Washing  Beaverton  Oregon
Power Washing  Gresham, Fairview, and Clackamas
Power Washing Tualatin, Oregon
Pressure Washing  Oregon City OR
Privacy Policy-Cascade Painting & Restoration
Painting from the Oregon Coast to Eugene, to Longview Washington.