Painting Contractors Portland
Testimonials
Portland Metro area
(To read any of our 34 reviews on Google you can type in Painting Contractors Portland and hit the 5 star reviews next to our listing, Or click here

*****
Call or Text 503-936-3255
Cascade Painting and Restoration      Exterior Painters  Interior Painting
April 14, 2014
"Carl and the team at Cascade Painting and Restoration provide exceptional, professional painting, refinishing and restoration services at reasonable prices. We are currently working on a challenging project at Lan Su Chinese Garden, where I am employed as the Facilities and Safety Director. I had been looking for a company who would be flexible, conscientious, and willing to work in unusual conditions while still providing a top quality finished product. I was lucky enough to find Carl and his team, who were not only up for the challenge but have been a pleasure to do business with. Highly Recommended!"
(We've done restoring and painting of nine of the garden's pavilions, the entry/ticket booth area and the bathrooms so far.  There is still a lot to do.  We feel honored to be allowed to help restore and paint such a lovely place)
______________
Cascade Painting and Restoration has done more than 1600 projects for us since 1992, painting houses, offices, and businesses. Most of the projects are due to fire or water damage that our clients have had. They do excellent interior and exterior painting as well as expert wall and ceiling repairs, texturing/brocading etc. They are professional, clean, and neat painting contractors and our customers like to work with them. I highly recommend this painting company.
Dennis Mesford, owner of Servpro of Gresham.
_______
This letter is regarding the outstanding exterior and interior painting that you did for us last summer. The entire house sparkles. We are extremely pleased with all of Cascade's work on our property. We will certainly use your painting services again when we need them.
PS I will be happy to recommend you and your crew to anyone interested. GR
Best regards, Gail Rosenthal  Forest Heights Oregon
______
2 weeks ago-
"During a recent major plumbing repair (total interior water line replacement) on our 1980's home, many large irregular shaped sections of ceiling and wallboard were removed. Mike and Dale from Cascade Painting & Restoration, patched and painted all the areas. The repaired walls and ceiling areas are so well done, they can't be distinguished from the rest of the walls. They not only did an exceptional job on the repair itself, but protected all our hardwood floors, and adjacent rooms from damage while the repair work took place. We definitely recommend Carl Nurmi's Cascade Painting & Restoration."
_______
From the first phone call I made to completion of the job I have been very happy with Carl Nurmi of Cascade Painting, and would definitely recommend these painting contractors to any of my friends or colleagues. The painting turned out beautifully, was completed within the estimated time, and cost was very reasonable, even with the extras I requested after the job had started. I couldn't ask for more. Jennifer Ryan Lake Oswego Oregon
___________
Cascade Painting has painted the exterior of our house twice. (12 years apart). They have also painted much of my interior. They are excellent painters, very courteous, neat and professional I recommend them highly.  We have had other painting contractors, prior to them, but this the best painting company that we've found.
Iris Buono  Portland Oregon
___________
Our company, Oregon Home Improvement, has used the services of Cascade Painting and Restoration for the last 18 years. They've done more than 1500 jobs for us from the small to the complete painting of the interior and exterior of high end homes. They are professional, very good at what they do, and work well with our customers. I highly recommend them.
George Husbands OHICO
_____________
After a winter snowstorm filled our attic with snow, melted, and came thru our ceilings, Carl's company, Cascade, was sent by our insurance company for the restoration and painting after the needed demolition and cleanup. We couldn't have been more satisfied, especially considering the number of other jobs that must have been pending. Carl arrived promptly, assessed what needed to be done, and had his work crew on site within a couple of days. The workers arrived on time, worked carefully and artistically when restoring drywall, and had to paint the entire 10/12 ft ceilings throughout the entire first floor to match.
This first experience with Cascade was particularly relieving as we had been in the new home a short while and I can say that Cascade left the home in better condition than the builder did.
So, when time came to work on the exterior of our home, I contacted Carl, along with others. Carl's response again was prompt. His knowledge and experience with different products was very important as our HOA had specified products that were now outdated. Again choosing to work with Carl we were able to select an appropriate product to cover a previously treated cedar siding. His work crew arrived when scheduled, all work was done in a workman like manner leaving the area neat and clean daily.
As our home was not constructed using any flashing over windows, it was important in my conversations with Carl to be assured that the calking was well done. "No worries" …..the first day on the job I talked with the head painter who commented that the caulking was top priority.
I should note that in both the above instances, Carl, himself, arrived on site almost daily to review and check on the progress, discuss any outstanding issues with crew and me, and generally made himself aware of the work being done. I have had previous work done where the initial contact person was never seen nor heard from again…….this was a pleasure. In the few cases where Carl didn't come on site, I usually received a phone call.
At my recommendation, a number of others in our neighborhood have contacted and contracted with Carl. All have been satisfied and, in fact, one neighbor who is now selling real estate calls upon Carl for jobs in preparing her clients homes for sale.
I can recommend Carl and Cascade without hesitation.
A satisfied long time customer,
Brian Frid
Forest Heights
Portland Oregon
Cascade Painting and Restoration has done a number of projects for Cleanwater Services, both here in Forest Grove, and also at our Tigard plant. They have repaired our office building, fixing ceilings and walls as well as painting them. They have also painted a lot of our industrial equipment at both sites. They have been professional in all respects and have done excellent work for us. We highly recommend them.
Harry Singleton,
Facilities Management,
Cleanwater Services  Beaverton Oregon
Cascade Painting and Restoration did an excellent job painting the interior of our house. The workers arrived at our house at the appointed time; they were respectful, polite and very professional. All work performed was completed in accordance to the schedule and agreed price. The crew took extra care preparing and covering furniture and floors to avoid damages. I recommend Cascade and will certainly use them again for future painting projects. Billy H   Bethany, Oregon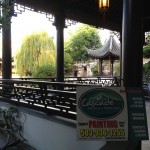 I presented Carl and his team with a unique challenge for commercial painting. The areas in need of a fresh coat were covered in dirt, dust, grit and grime. There were also many obstacles that had to be masked and avoided. Carl was professional and honest from the beginning. He worked around our schedule, imposing no negative impact on our production. After the first area was complete, we had no hesitation bringing Carl and Cascade back for more. All the projects were completed on time, they even managed to get in a little extra work while they were here the second time. I will, without a doubt, continue to use Carl and his team and Cascade Painting & Restoration for all of our commercial painting needs.
We needed our house repainted and I did a Google search when none of the people recommended to us called us back. I found Cascade Painting and Restoration along with two others. They took a professional but no frills/nonsense approach to our house which led to quality work at a more reasonable price than the others. The painting was done relatively quickly and the work is very good. I have recommended them to our friends and neighbors without reservations. Well worth a bid if you need your house painted.
Response from the owner6 m
House Painting Contractors Lake Oswego and West Linn, Oregon
Painting Contractors Beaverton Bethany Oregon
House Painters Gresham, Fairview, and Clackamas
Painting Contractors Tigard, Oregon
House Painters Tualatin, Oregon
Privacy Policy-Cascade Painting & Restoration
Commercial Painting Contractors in the Portland Metro area.