Painting Contractors in Portland –
Cascade Painting and Restoration
Painters in the Portland metro area since 1988
By Carl Nurmi
Cascade Painting & Restoration has been painting Portland metro area homes, buildings, businesses, offices, apartments, condos, commercial sites, and more since 1988.  We've done more than 5000 different projects in that time. We are craftsmen who are very experienced in exterior painting  and interior painting.  We do excellent  house painting as well as commercial painting.
Experience counts, when you're hiring a painting contractor to work on your next project, so make sure you call our expert staff for a free estimate.
Drywall Repair is another specialty.  We've done many hundreds of such jobs and are experts in matching textures and brocades.  We also do wallpaper removal.
Call us for your pressure washing needs.  You don't have to live with ugly green and slimey black moss and mildew.  Let us clean up your house, driveway and walkways, and better yet, let us seal your concrete to hinder its return.
Please visit our home page for more information. Painters in Portland-Cascade Painting and Restoration
Or watch our Youtube video: Painting Portland
http://www.youtube.com/watch?v=Z6J8krZKHFA
Call Today at 503-936-3255
"Cascade Painting and Restoration has done more than 1200 projects for us since 1992, working on homes, offices, and businesses in the greater Portland area. They do excellent interior and exterior painting as well as expert wall and ceiling repairs, texturing/brocading etc. They are professional, clean, neat, and our customers speak well of them. I highly recommend this company."
– Dennis Mesford, owner of Servpro of Gresham
"Our company, Oregon Home Improvement, has used the services of Cascade Painting and Restoration for the last 18 years. They've done more than 1500 jobs for us from  small projects to the complete painting of the interior and exterior of high end homes. They excel at wall and ceiling repairs and the matching of textures. They're professional, very good at what they do, and work well with our clients."
– Jay Carey  OHICO  (since 1952)
"We needed a painter in Portland when we bought a house before we moved here. We did our research and chose Cascade Painting and Restoration. They took care of the interior and exterior painting as well as some drywall work and repairs. They are good , reliable painting contractors. Mindy B.
House Painting Contractors Lake Oswego and West Linn, Oregon
Painting Contractors Beaverton Bethany Oregon
House Painters Gresham, Fairview, and Clackamas
Painting Contractors Tigard, Oregon
House Painters Tualatin, Oregon
Cascade has finished restoring and painting 34 pavilions, the entry, and the bathrooms at the Lan SU Chinese Garden in downtown Portland.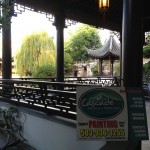 Carl and the team at Cascade Painting and Restoration provide exceptional, professional painting, refinishing and restoration services at reasonable prices. We are currently working on a challenging project at Lan Su Chinese Garden, where I am employed as the Facilities and Safety Director. I had been looking for a company who would be flexible, conscientious, and willing to work in unusual conditions while still providing a top quality finished product. I was lucky enough to find Carl and his team, who were not only up for the challenge but have been a pleasure to do business with. Highly Recommended!